*By Stephanie Vaught, J.D., Founder, Social Money Finance, LLC*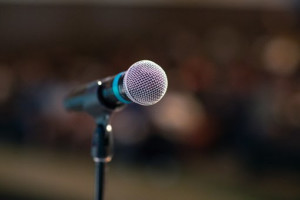 I have often been told in my life that my voice is not loud enough – that I'm too soft-spoken or that if I wanted to be an attorney, I needed to be loud and boisterous. Someone even once said I was not visible. A manager at a previous employer took a prospective client from me and gave it to a man because he sounded more "authoritative." I can go on and on. What I know to be true is that it is all lies.
I graduated from law school. I have successfully advocated on behalf of clients. I have mentored, coached and counseled many clients, colleagues and friends. I am a polished and professional speaker, presenter and writer. I develop my own curriculum and teach classes and workshops on personal finance. If I had listened to the naysayers and negativity, I would not be where I am today.
Even with these accomplishments, I am still underestimated. Little do people know, I am rich on life experience and come from a powerful line of women – namely, my mother and grandmother.
When I was young, I was very inquisitive. I wanted to know everything about everything. I was also very observant. I watched my mother read the Sunday newspaper, read thick and interesting-looking books, do crossword puzzles, talk on the phone with her siblings, teach classes and give speeches at church and various venues. I watched my grandmother cook meals from scratch for her large family, sew curtains and hem dresses and my grandfather's pants. I watched her pray and teach Sunday school and young children at my elementary school. I watched her clean and take care of the home. My grandmother was also masterfully organized, and I watched as she paid bills, managed her money and kept up with friends and family through calls, letters and thank you notes.
Much of who I am is modeled after these amazing women. They are smart, intelligent and industrious. They believed in the power of education and using their voice to empower themselves and others. My mother teaches business classes and has an exuberant voice. My grandmother, now deceased, had a gentle yet firm voice. And with it, she and my grandfather successfully raised 11 children.
My voice falls neatly in the middle. I first discovered it in college at age 17, when I had to advocate for fair grades on assignments or stand up to those who took advantage of my kindness. I used my voice at my first job after college when I questioned my employer for asking me to do something that was morally and ethically wrong. I heard my voice in law school when I had to prove my knowledge to my professors.
Through these life experiences, I learned to fight my battles and speak up for myself. Now, my power lies in the multi-faceted way I use my voice to help the client I serve. I am calm and soothing when coaching a client through financial distress or showing them ways to budget and maximize their money. I am passionate and enthusiastic when explaining financial concepts and educating our communities through classes and workshops.
What I know for sure is there is no one way to be or one road to success. Own who you are and what your voice brings to the table. If you are "soft-spoken" or quiet-natured – own it. If you are loud and energetic, own it. Do not allow anyone to diminish your light, slow your progress or lower your star because somehow you believe they can speak for you. Use your voice.
There is power and purpose in what we have to say and no one can convey it – but us.
_____________________________________________________________________
Stephanie Vaught, J.D. is the founder of Social Money Finance, LLC., a company that empowers communities to expand their financial knowledge and maximize their money.