I remember entering the office of my first "real world" job in Detroit. Eager and ready to build on the momentum I'd built as a college student, I dove right into my new role.
I made a career transition across two vastly different industries, so I knew I had learning to do, but I had no idea that the biggest challenge I'd grapple with would be adjusting to an entry-level role after being in the leadership ranks throughout undergrad.
I constantly craved that sense of purpose leading others gave me throughout college, and anxiety filled my mind as I began wondering when that sense of purpose would come back. I slowly began to realize, though, that leadership can be demonstrated at any level — regardless of title or experience.
A 2014 study done by the Harvard Business Review surveyed more than 330,000 professionals on which skills have the greatest impact on a leader's success. From a list of 16 "competencies," respondents selected the top four they considered to be most important. The below graph illustrates the results.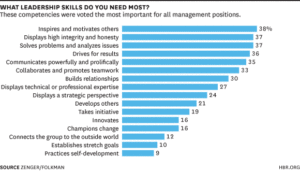 As you see, it's certainly possible to employ these top-ranking skills in your day-to-day work, regardless of your title. This is important for young professionals to realize, not just so they can fill that craving for leadership, but also because it hints at a brighter future — the study concludes that demonstrating these competencies signifies you'll be successful in your next role.
Your leadership skills will develop as you gain experience, but there are plenty of opportunities to showcase your leadership qualities in the workplace as a young person.
Empower those around you.
"Inspires and motivates others" received the highest percentage of votes among the 16 competencies. You don't have to be the head of your department or office to practice this critical leadership component. Offer praise when it's appropriate and continuously empower your colleagues in the work they do to help the team and company reach its goals.
Manage projects and organize documents.
When colleagues have a long list of to-do's, internal organization often suffers simply because other tasks receive priority. This opens the opportunity for you to lead organizational efforts of your team, such as managing shared folders, updating important documents or taking and sharing notes during an internal meeting.
Explore which project management opportunities you can take on, too. You're likely not able to assign projects, but you can manage a project tracker or send weekly updates to ensure everyone is privy to upcoming deadlines and the status of other projects.
Leading these efforts not only increases your value as a team member by handling important but often overlooked tasks, but it also familiarizes you with what's being worked on and what progress is being made each week.
Take the lead, even if it isn't a "main" role.
Pounce on every opportunity to lead a task and remember no task is too small. Whether it's building a database or searching for email addresses, if you receive the opportunity to lead any task on your team — own it. If you have capacity, continuously search for these opportunities.
Listen and observe.
Pay close attention to the actions of leaders on your team and within your company. Watch how they lead internal meetings, speak to colleagues, interact with clients or stakeholders and complete their own individual tasks.
Observe what is well received and what isn't. Although it might not always feel like it, every moment is a chance for learning — even if it's learning what not to do.
Read.
Find key outlets covering your industry and dedicate time each day to reading the latest news. Staying up to date on what's trending keeps you current, and you can bring this knowledge to your team.
Ask your colleagues if they'd be interested in a concise weekly email highlighting some top news stories or studies related to your work. They might not have time in their day to seek this information, so you'll increase your value by bringing it directly to them.
Seek professional development opportunities.
Though self-development ranked last in the HBR study, constantly seeking improvement is still an important leadership quality — especially when you're young.
Ask if your company offers any financial support for professional development, such as stipends or reimbursements. It's okay if this perk isn't available because professional development doesn't have to break the bank — there are plenty of low-priced and free courses and events online, especially on sites like Eventbrite and Facebook.
Another cost-savvy professional development tactic is to reach out to professionals within your company or industry and ask to grab coffee. Use the time to pick their brain for knowledge and learn their story.
Having leaders at every level within a company is a quality that separates the average from the outstanding. Putting these tips into practice will not only resurface the familiar feeling leadership brought you in college, but it will also position you as a reliable team member, build your reputation as a dependable and proactive professional, and broaden your knowledge of both your company and industry.
_____________________________________________________________________
Kristen Davis is a Marketing and Communication Specialist at Detroit-based architecture and design firm, Hamilton Anderson Associates, and an Editorial Contributor and Strategist at the Detroit Women's Leadership Network. She can be reached via email at kmdavis106@gmail.com.