* By April Boyle, Founder & Executive Director, Build Institute *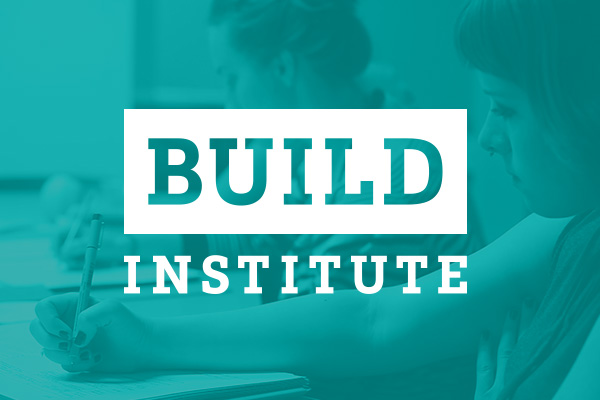 I've been very excited to offer this reflection for the Detroit Women's Leadership Network. So many conversations focused on Detroit's recovery and recent development miss the chance to include more voices – native talent, women and people of color in particular – and a big part of our work at Build Institute is designed to create community and serve women entrepreneurs. The DWLN is playing such an important role for local women, connecting us and offering resources to help us all succeed when we're in uncharted territory or unfamiliar spaces, or facing long odds.
That's a big part of what entrepreneurship is: Setting a uniquely personal vision and taking one step at a time, with lots of good faith efforts along the way. (It doesn't mean you are pitching something on Shark Tank, or working exceptionally long hours – although it can mean both of those things!) Rather, entrepreneurship is committing to something important to you with no guaranteed outcome or prescribed path. It's bringing something new into the world that wouldn't be here without you.
I helped found Build Institute in 2012, and since then we served nearly 1,500 entrepreneurs from all corners Southeast Michigan – artisans, tradespeople, retailers. There are hundreds of local businesses that have come up through Build, and we are always proud to share more about Coriander Kitchen, Detroit Vegan Soul, Detroit is the New Black, Fresh Cut Flower Farm, and so, so many others. Learn more! Visit them! Support them!
In so many instances, we see women in all types of situations and with all types of commitments operate as entrepreneurs – managing people, juggling priorities, working hard, slaying dragons… often alone, often quietly, and often without knowing exactly how special and valuable their efforts are.
Personally, this is how I am driven to contribute to our Detroit – helping to create spaces that nurture creativity, inclusivity and empowerment. I am always curious to learn from the women I meet at Build and in life: What are you building? What is most special to you in life? Where would new resources or mentorship or community connections help you thrive?
We often say that the greatest untapped asset in the City of Detroit is people with ideas, but for decades we have underinvested in our residents and left many, many doors closed as a result – in Detroit and in Michigan as a whole. We have neglected our native talent in the face of challenges, including years of economic upheaval, institutional racism, political corruption, the housing crisis, the most recent recession and Detroit's bankruptcy.
In a recent report I Dream Detroit from the Institute of Policy Studies, 70+ percent of women of color surveyed in 2017 – thought leaders and strategists working in Detroit – reported not feeling included in Detroit's economic development plans. Despite high levels of education for those respondents – 34 percent holding undergraduate degrees, 30 percent earning advanced degrees – economic insecurity remains a significant risk.
We advocate for new and more substantial investments in Detroiters who have ideas, talent and potential but who don't have ready access to meaningful support and resources. We try to shed light on an often-overlooked but high-impact segment of the workforce that can be making even larger contributions than they already are, and to do our part to leverage Detroit's resilience and innovation – characteristics very ingrained in the region's culture and narrative. We want the opportunities that come to the region to be equitable and accessible to all.
I hope you read this and feel encouraged to embrace your entrepreneurial spirit. Maybe set aside just a bit of quiet time to think big and set a new goal. Consider what taking action would look like.
Or plan a visit to the Dequindre Cut Freight Yard this summer for shopping, food, drinks and music. You may also decide to attend a SOUP event with friends, or enroll in an exploratory Build course, or just reach out to learn more.
Whatever it may look like for you, please take action. The world needs our voices today more than ever. Detroit needs your voice.
_____________________________________________________________________
April Boyle, Founder & Executive Director of Build Institute, has guided Build Institute to serve nearly 1,500 Detroit-based entrepreneurs – mostly women and people of color – with an annual budget of $1,000,000. She has deep roots in Detroit, has a Bachelor of Arts degree from Wayne State University, is co-creator of a number of small-scale ventures, and sits on the board of Kiva Detroit. To learn more, visit www.buildinstitute.org.